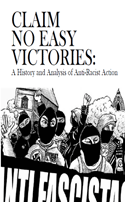 A new version of "Claim No Easy Victories" has been posted as the old version had some odd formatting errors. The new version should be easy to print and reproduce.
Additionally, new versions of all of our zines have been posted. For the most part, they are the same with the addition of proper contact information. We have also added screen readable versions.
We're currently at work on a few projects, including a zine on the history of the Autonomous Zone in Chicago.