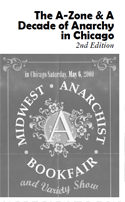 We're excited to announce the completion of our latest project, an updated version of the zine The A-Zone & A Decade Of Anarchy In Chicago.
In this new edition, editor Alex Iwasa expands on their previously published history of The Autonomous Zone (The A-Zone) in Chicago and shares new research that provides additional information about both the A-Zone and the larger context of the U.S. anarchist space in the 1990s and early 2000s. A new contribution in this edition adds additional reflections on the A-Zone, joining an interview and two reflective essays that appeared in the original edition of the zine.
The history of the Autonomous Zone has a relevance for those outside of Chicago, as the A-Zone was typical of anarchist experiments in counter-institutions and infoshops undertaken by anarchists in the 1990s and as such the writings within cover an important aspect of recent anarchist history. It gives an interesting snapshot of the infoshops of the 1990s and the related anarchist milieu. Beyond the A-Zone, the zine talks about the Love & Rage anarchist federation, the anarchist networking project (Dis)Connections and the related Network of Anarchist Collectives, as well as the Chicago-based projects Baklava Collective and Wind Chill Factor. Also covered are Food Not Bombs, Anarchist Black Cross, and Anti-Racist Action.
You can get the zine as a printable or screen readable version